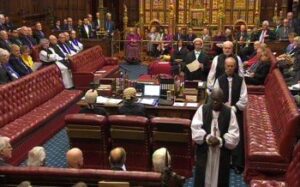 THE CURRENT SITUATION
The UK is the only democratic sovereign state in the world that gives seats in its legislature to religious representatives by right. The UK parliament automatically awards 26 seats in the Lords to Church of England bishops (the Lords Spiritual). They can vote to amend legislation, and make interventions (as any other members of the House), as well as leading prayers at the start of each day. They also enjoy several benefits not afforded to other members of the House, including:
Speaking privileges (it is customary to give way to a bishop wishing to speak);
Seating privileges (the Lords Spiritual have their own bench in the House); and
Legislative privileges (the Lords Spiritual are consulted on new legislation before it is tabled, giving the Church of England additional say over those of any other belief on any proposed legislation).
THE CASE FOR REFORM
The Lords Spiritual represent one branch of one religion, putting the interests of that one group, representing no more than 15% of the population, ahead of all others. Recent YouGov polling suggests that only 8% of the population believe that bishops should retain their current rights. 12% suggested that leaders of other faiths should gain the same rights. 20% were in favour of keeping the bishops in a reduced capacity, and the remaining 60% were in favour of removing the automatic right of the bishops to sit in Parliament.
The House of Commons Public Administration and Constitutional Affairs Committee concluded in 2017 that radical reform is required, beyond the scope of the Lord Speaker's Committee on the Size of the House. Given the desire to reduce the size of the upper House from over 800 members to around 600, adding further members seems counterproductive. The only practical method for doing this would be to move the bishops to a separate consultative committee, without rights to sit in the House, adding representatives of other religions and worldviews to the same committee.
HOW CAN YOU HELP?
You can meet with, or write to, your MP about this, asking them to support an end to bishops automatically being granted seats in the House of Lords, or failing that, to support a reduction in the number of bishops, in line with the reduction in the number of members of the House of Lords.
You could also join Conservative Humanists to support this and our other campaigns.
---

Join or donate to support our cause